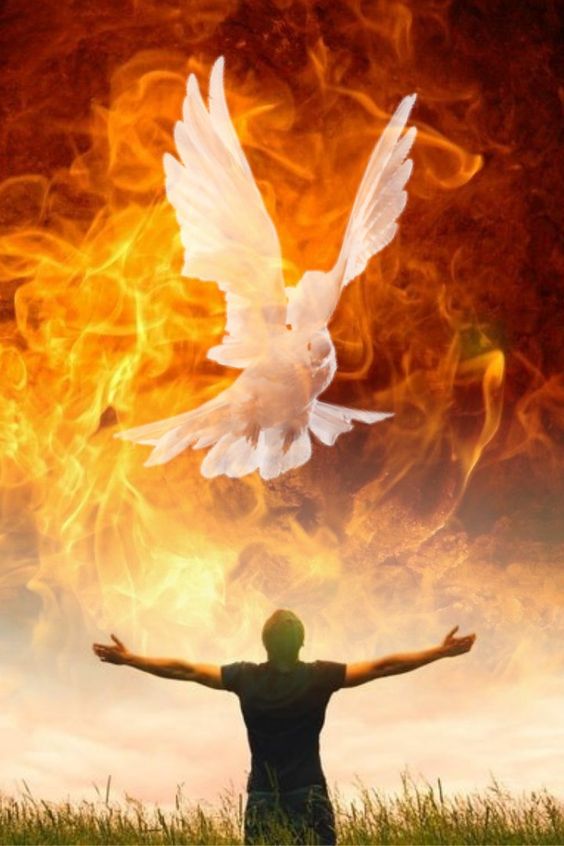 COME, HOLY GHOST
A Devotion for Monday
Come, Holy Ghost, Creator blest,
and in our hearts take up Thy rest;
come with Thy grace and heav'nly aid,
To fill the hearts which Thou hast made.
O Comforter, to Thee we cry,
Thou heav'nly gift of God most high,
Thou Fount of life, and Fire of love,
and sweet anointing from above.
O Finger of the hand divine,
the sevenfold gifts of grace are thine;
true promise of the Father thou,
who dost the tongue with power endow.
Thy light to every sense impart,
and shed thy love in every heart;
thine own unfailing might supply
to strengthen our infirmity.
Drive far away our ghostly foe,
and thine abiding peace bestow;
if thou be our preventing Guide,
no evil can our steps betide.
Praise we the Father and the Son
and Holy Spirit with them One;
and may the Son on us bestow
the gifts that from the Spirit flow.
V. Send forth Thy Spirit, and they shall be created.
R. And Thou shalt renew the face of the earth.
Let us Pray:
O God, Who didst instruct the hearts of the faithful by the light of the Holy Ghost: give to us, in the same Spirit, to know what is right, and ever rejoice in His consolation. Through Jesus Christ, Thy Son, our Lord, Who with Thee livest and reignest in the unity of the same Holy Spirit, God. World without end.
Amen.
MONDAY DEVOTION:
Prayer of Consecration to the Holy Ghost
(Anyone who has consecrated himself to Mary according to the formula of the Blessed St. Louis de Montfort, and then also to the Sacred Heart, will find great treasures in a repeated consecration to the Holy Spirit. The whole influence of Mary leads us to intimacy with Christ, and the humanity of Jesus leads us to the Holy Spirit, who introduces us into the mystery of the adorable Trinity.)
O HOLY GHOST; Divine Spirit of light and love, I consecrate to Thee my understanding, my heart and my will, my whole being, for time and eternity.
May my understanding be always submissive to Thy heavenly inspirations and the teachings of the Catholic Church, of which Thou art the Infallible Guide. May my heart be ever inflamed with love of God and of my neighbor. May my will be ever conformed to the Divine will, and may my whole life be a faithful imitation of the life and virtues of our Lord and Saviour Jesus Christ, to Whom, with the Father and Thee, be honor and glory forever. Amen.
(Indulgence of 300 days once a day, applicable to the souls in Purgatory — Pius X. This consecration may be renewed by repeating only the first paragraph.)
Act of Consecration To The Holy Spirit
On my knees before the great multitude of heavenly witnesses I offer myself, soul and body, to You, Eternal Spirit of God. I adore the brightness of Your purity, the unerring keenness of Your justice and the might of Your love. You are the Strength and Light of my soul. In You I live and move and am. I desire never to grieve You by unfaithfulness to grace and I pray with all my heart to be kept from the smallest sin against You. Mercifully guard my every thought and grant that I may always watch for Your light and listen to Your voice and follow Your gracious inspirations. I cling to You and give myself to You and ask You by Your compassion to watch over me in my weakness. Holding the pierced Feet of Jesus and looking at His Five Wounds and trusting in His Precious Blood and adoring His opened Side and stricken Heart, I implore You, Adorable Spirit, Helper of my infirmity, so to keep me in Your grace that I may never sin against You. Give me grace, O Holy Ghost, Spirit of the Father and the Son to say to You always and everywhere, "Speak, Lord, for Your servant is listening." Amen.
MONDAY DEVOTION:
Prayer to the Holy Ghost for a Special Favor
O HOLY GHOST, Thou art the Third Person of the Blessed Trinity! Thou art the Spirit of truth, love and holiness, proceeding from the Father and the Son, and equal to Them in all things! I adore Thee and love Thee with all my heart. Teach me to know and to seek God, by whom and for whom I was created. Fill my heart with a holy fear and a great love of Him. Give me compunction and patience, and do not let me fall into sin.
Increase in me faith, hope and charity, and bring forth in me all the virtues proper to my state of life. Help me to grow in the four cardinal virtues, Thy seven Gifts and Thy twelve Fruits.
Make me a faithful follower of Jesus Christ, an obedient child of the Church, and a help to my neighbor. Give me the grace to keep the Commandments and to receive the Sacraments worthily. Raise me to holiness in the state of life to which Thou hast called me, and lead me through a happy death to everlasting life. Through Jesus Christ, our Lord.
Grant me also, O Holy Ghost, Giver of all good gifts, the special favor for which I ask (name it), if it be for Thy honor and glory and for my well-being.
Glory be to the Father and, to the Son, and to the Holy Ghost, as it was in the beginning, is now, and ever shall be, world without end.
Amen.